SHANE GEHLERT
SUNSHINE COAST, AUSTRALIA
Primary medium:
ACRYLIC ON CANVAS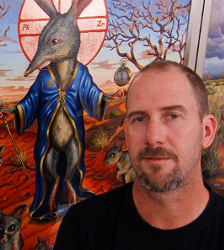 Born and raised in the suburbs of Adelaide Southern Australia, Shane soon developed a great affinity for the 'bush' and the strange creatures that inhabit the arid lands of the Australian desert. Many a school break was spent visiting the vast outback sheep stations, (Shane's father was an accountant for a pastoralists firm.) Soon, the vibrant colours and stark light and contrast, were forever etched into his mind's eye.
Shane began his full time art career in 1992, in the dry, arid regions of central Australia, in, of all places, a mining town. His paintings soon built a solid reputation with galleries and the public. The birth of his iconic 'Chrome Kangaroos' forever solidified his reputation as a significant artist, with a highly individual style. The kangaroos soon anthropomorphised into a chrome female form, subjects that are both still carried to this day.
Shane's paintings are a strange combination of realism, fantasy art, sci-fi, surrealism and political satire.
______________________