LEO PLAW
SYDNEY, AUSTRALIA
(currently in Germany)
Primary medium: OIL ON CANVAS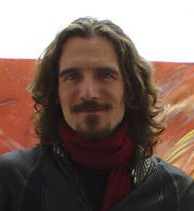 Leo is self-taught in many creative fields.
He has had studios in Brisbane, Sydney, London, Berlin
and Vienna. His artwork has been exhibited internationally. Starting with computer graphics and animation, he then worked in computer game and video production. He later delved into oil painting. In 2003 Leo left Australia and settled in Berlin where he focused on painting. He travelled extensively to network with other artists. Leo relocated from Berlin to London in 2006. He then started building the immensely popular beinart.org website for Jon Beinart. The International Fantastic Art Association invited him in 2008 to exhibit in Kyoto. He established the Fantastic and Visionary art website FantasticVisions.net. Leo continues to travel and network with creatives throughout the world. His artwork has been published in many books and magazines and resides in many private art collections. He takes an active interest in how the arts bring change to our world.
______________________